13 unusual things to do in Amsterdam
.
Insiders guides, things to do
Thomas
Everyone knows the must-sees in Amsterdam. The canal boat sightseeing tours, the windmills, museums dedicated to legendary artists such as Rembrandt and Van Gogh, the Rijksmuseum with its world-renowned galleries dedicated to the Dutch Golden Age, and of course the Anne Frank House. But with this Inside Story, we want to introduce you to some of the more off the beaten track activities in Amsterdam, those lesser-known gems that you might miss if you're not looking carefully, which in some cases are known only to the locals.
When you check in to your YAYS aparthotel in Amsterdam, the first thing we'll give you is a copy of our Neighbourhood Guide. It's a bible of invaluable tips on unusual things to do in Amsterdam, to inspire days out well beyond the tourist trail, and help you create unique memories of your stay. Make notes, circle the places you want to visit, and start exploring Amsterdam like a local!
1. The Mouse Mansion
This quirky little bookshop will captivate young readers and is one of the neighbourhood's most delightful treasures. Karina Schaapman is a children's book author whose stories about two mice, Sam and Julia, and the mansion they inhabit, have been a worldwide hit. To illustrate her books, Karina painstakingly creates dioramas including a theatre, library, funfair, harbour and circus, from scrap materials. They're on display in her family-run shop/ studio, where you can also buy build-your-own kits as well as browse the book collection.
Why try this:
The dioramas take a long time to build, years for the library. They're seriously impressive.
Kids already reading the Mouse Mansion stories will love it, and newcomers will be hooked.
2. Cat boat
From mice to cats, this is a vital sanctuary for Amsterdam's stray and abandoned felines…that floats. The aim of the Cat Boat is to bring the animals back to health and then hopefully find them secure, loving homes. Visits to meet (and stroke) the cats are free of charge, but donations are welcomed and go towards their upkeep.
Why try this?
A purr-fect opportunity to make some new furry friends.
Help a really positive project in the community.
3. Personalised neighbourhood tour
Bored of sightseeing tours where there's so many people you can't hear the guide, or ask a question? Then opt for a tailor made tour of the neighbourhood, courtesy of our friends at Amsterdam Odyssey. These fun two-hour rambles can be enjoyed either on foot, or by bike (you can rent them direct from your aparthotel), and they're also a good way to avoid the crowds in Amsterdam. These tours are led by experts in history, social sciences and / or art history, who will give you a much more interesting and detailed look at the city than your average guided tour. Plus, they start with drinks in your apartment!
Why try this?
These are for small groups only, so you can ask as many questions as you like and have no trouble hearing the answers.
Tours can be personalised according to your own interests.
4. Pianola Museum
Pianolas are self-playing pianos that follow a programmed piece of music. At this lovely museum, one of the smallest in Amsterdam and located in the Jordaan quarter, there is a selection of beautifully preserved, 19th century exhibits, and some 30,000 rolls of music that can be played on them. We love that every week there is a range of concerts featuring everything from classical to jazz, with some aimed at children, along with poetry readings and more. Note that the museum is only open on Fridays, Saturdays and Sundays.
Why try this?
A real treat for all music-lovers, especially those with an interest in history.
The weekend concerts feature a fab range of talent and attract many people from the neighbourhood. Music to the ears of anyone wanting to get to know the locals.
5. Vondelpark skate 
The vast Vondelpark, Amsterdam's best-known park, is no secret of course. But what many people, even some locals, are unaware of, is that every Friday (except when it's raining), a group of roller-skaters gets together in the park for an evening out. The group, which is marshalled by volunteers, follows a different route every time, travelling along main roads because they're safe in numbers. It's free to take part, but you will need your own skates, to know how to brake in them, and to be experienced enough to keep up – each trip is around 20km. Pads, helmet, and lights on dark nights are also recommended for this thrilling way to explore Amsterdam.
Why try this?
A brilliant way to meet new people, especially locals, with a shared interest.
Get some exercise while also getting to know your way around Amsterdam.
6. NDSM Flea Market
How are your bargain-hunting skills? The IJ-Hallen flea market at the NDSM wharf is the largest in Europe, two industrial-sized warehouses filled with some 750 stalls selling everything from vintage clothing to books, jewellery and furniture. It takes place one weekend a month, and you need to buy a ticket to enter. The market is hardly a secret, but you can quite easily spend a whole day at this former shipbuilding wharf, whose free-flowing cultural ethos means you'll find everything from festivals to open-air music events, yoga and tattoo conventions going on.
Why try this?
Perfect day out for anyone who loves aimlessly browsing for curios and bartering for their finds.
An enjoyable way to rub shoulders with the locals, with thousands of Amsterdammers treasure-hunting here.
7. Electric Ladyland
Billing itself as the only museum of its kind in the world, Electric Ladyland showcases a selection of minerals and artworks that glow with brilliant fluorescence when ultraviolet light is shined on them. Think of Electric Ladyland, which is hosted in a small, cave-like space, as like taking a walk through a lava lamp. It's a disorienting and memorable way to spend an hour.
Why try this?
It's an unusual highlight of Jordaan, which is itself one of Amsterdam's most interesting districts.
If you're fascinated by the Flower Power generation, miss the 60s, or just can't remember them.
8. Plastic Whale tour
An Amsterdam canal tour that is supremely sustainable, the Plastic Whale mixes sightseeing with fishing – for plastic waste, which is then recycled into cool furniture, and even new boats. Around eight million tons of plastic enters our oceans every year, and 90 percent of it comes from just 10 rivers around the world. Plastic Whale is one initiative trying to tackle that, and we think it's one of the most unique experiences in Amsterdam. So far, they've pulled some 40,500 plastic bottles from the water, which depending on how you look at it is amazing, or pretty sad.
Why try this?
Admire the beauty of Amsterdam's waterways, and the canalside architecture, while also helping to reduce plastic pollution.
A good way to show kids the fun they can have while helping to preserve the environment.
9. Unusual restaurants
As you might expect from one of Europe's most exciting cultural destinations, there are plenty of remarkable places to eat in Amsterdam, as popular with locals from the neighbourhood as they are with tourists. A few we'd recommend include REM Eiland, where spectacular views come as standard – that's because this unique Amsterdam restaurant is housed on a disused helicopter platform in the North Sea, once used to broadcast a pirate TV channel. Don't miss the rooftop bar.
Restaurant Freud is a lovely Mediterranean bistro that also operates as a social enterprise, helping dozens of people with psychological vulnerabilities ease themselves back into the world of work. They also have a menu that prioritises sustainably sourced meat, fish and vegetables.
We're big fans of De Oceaan. This cosy, family-run cafe is a community hub where you'll find locals coming together at all hours to share a beer, a few snacks, and a chat in a convivial atmosphere. The vibe here is always relaxed, welcoming and totally unpretentious. If the weather is sunny, be sure and ask for a table on the terrace.
Of course, sometimes you might not feel like eating out – maybe you're too comfortable in your apartment, but too tired from sightseeing to cook. In which case why not order in? Our friends at neighbourhood restaurant Pikoteo can deliver a sumptuous tapas-style dinner, with free sangria, right to your door. Picotear means to nibble small bites in an informal, convivial way, and the chefs draw their inspiration from traditional Spanish bars, and the busy street food markets of SouthEast Asia and South America.
Why try this?
Eating out when you're on holiday is one of life's great pleasures.
Dining at local restaurants makes for more sustainable travel.
10. Cacao Museum
Back in the 18th century, the Dutch dominated the cocoa industry, and they invented modern cocoa processing techniques. This museum traces the history of cocoa and history, from South America to the Netherlands. But what makes it really special is the amazing experiences you can try here: learning how to make a chocolate bar from cocoa beans, how to make mouth-watering pralines, how to paint with chocolate(!) and best of all we think, discovering the art of pairing chocolate with everything from whiskey to rum, coffee and cheese.
Why try this?
An introduction to one of the Netherlands' most significant industries.
Delicious range of experiences and activities for all the family to try.
11. Follow the gable stones
Centuries ago, before modern addresses, people in Amsterdam would mark their home with wooden signs, and later, stone gable stones, gevelsteen. These markers indicated who lived there, their job, sometimes their religious beliefs and even what kind of person they were. There are still many of these ancient gable stones around the city, and some people today also choose to put their own up as a nod to tradition. So whenever you're walking along, keep looking up to see who might have lived where, and see if you can guess what their job was.
Why try this?
A free, open-air museum in Amsterdam with an intriguing history behind it.
Keep the kids entertained while you're out for a stroll around the neighbourhood.
12. Micropia
Microbes are the smallest organisms on Earth. They're everywhere, including all over us, 24 hours a day. Sounds disgusting? Remember that without microbes you'd struggle to eat breakfast – they're used to make everything from bread to yoghurt and cheese, even the toothpaste you brush your teeth with afterwards. At this first-of-its-kind museum, you can learn about how scientists are thinking about microbes as a sustainable alternative to plastics and admire the colourful 'fungal wall'.
Why try this?
It's the world's first museum on microbes, and it's absolutely enthralling.
Learn how science is harnessing their power to create new products and environmental solutions.

13. Hortus Botanicus
Did you know that Amsterdam boasts one of the oldest botanic gardens in the world? Well, you do now. Planting began in the 18th century, as a medicinal herb garden for doctors and pharmacists to use in fighting the plague, but it grew massively during the Netherlands' Golden Age, when seafaring vessels would return with seeds from around the world. Today this vast city oasis holds some 6,000 plants, from large to small, and some of them positively ancient.
Why try this?
A calm place where people from the neighbourhood often come to relax at any time, but especially pleasant on hot days.
The on-site shop is a must-visit for any keen home gardeners, and there is an attractive orangery with a terrace, for lunch.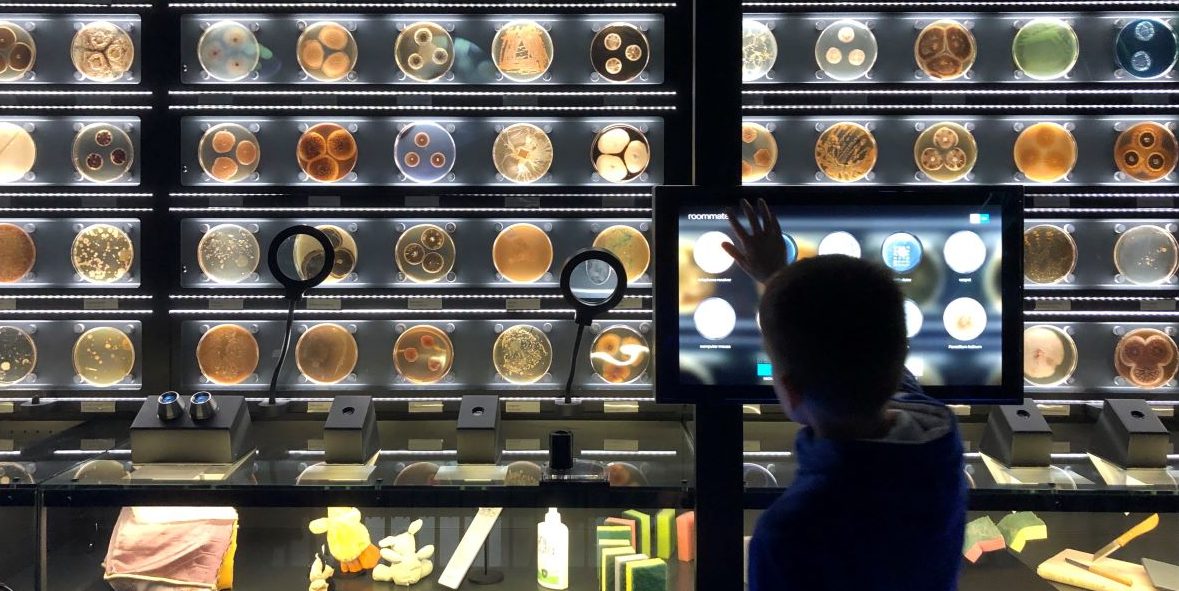 There's so much more to Amsterdam beyond what you'll find in your typical guidebook. Our YAYS Insiders, as well as the Neighbourhood Guides we present you with on arrival, are an essential resource for getting to know your local area. From tips on the best new restaurants springing up within a few minutes' walk, to surprising shopping experiences, and activities that will take you well off the beaten tourist path, they're your introduction to unique Amsterdam, and the people who make it so.
meet the writer
.
Thomas
When he is not managing his YAYS aparthotel in Amsterdam East, Thomas can be found flying model aircraft, watching one of his cats take a shower (don't ask us, ask him) or enjoying the vibe at NDSM, his favourite spot in Amsterdam and one of the hippest cultural hubs in the city. Ask him anything about the neighbourhood in English, French, Dutch, or Brabants. You could try in Spanish, Russian and German, too.
Choose your place in Amsterdam!
.